In Southern, Central Mexico, about two hours North of the Guatemala border is the city San Cristobal de las Casas. We spent roughly 3 months in this city and there's a lot to tell.
We'd heard about San Cristobal for nearly two years. It's cost of living, cleanliness and safety make it a popular destination for expats. Because of its close proximity to Guatemala, expats use it for border runs to renew their visas.
San Cristobal is a decent sized city for us. With more than 180,000 people, the city has a lot of things we had gotten used to living without. There are several well-stocked grocery stores, a movie theater, incredible dining options, and even decaf coffee for Mick. Score!
When we first arrived in town we began our usual process for finding a place to live. Initially, we stayed in a reasonably priced hotel while we scavenged the city looking for furnished apartments to rent by the month.
This is always a frantic time for us as we're anxious to get settled (we don't like to live out of suitcases in hotel rooms) and it's much cheaper to rent by the month than by the day. We began with a self guided walking tour and later driving tour of the new town, trying to figure out where we want to live, what's available and how much we should pay.
Yes, we could book through Airbnb before arriving but we don't like to go this route unless we already know the city. We want to make sure we like the surrounding neighborhoods and walking options. Plus there are generally cheaper options for long term rentals.
As we've done in the past we hit coffee shops, diners, community centers, etc. seeking out "for rent" signs.
When I call the phone numbers on these signs, I generally end up speaking with someone in Spanish. They use landmarks within the city to describe the location of their unit,. This can be frustrating because I have no idea what or where the landmarks are. In the end, most of the people are patient and will meet us and take us to their place.
After several days of striking out and not finding a place, our luck changed. I was eating lunch in a local restaurant and started talking to another American that told me about a nearby apartment/hotel complex. Mick and the kids checked it that afternoon and we moved in the next day. It was called Kukurutz and it was fantastic. The long term rates are competitive, includes daily house keeping, and the grounds are meticulously maintained. There was a big grassy area where we often played with other guests.
Exploring San Cristobal
San Cristobal has a very colonial feel to it. It is a very walkable city with many beautiful churches.
Even though it is walkable you better have good leg strength because it is hilly.
It's also a city "at altitude" meaning the air is thin. San Cristobal is 2,120 meters above sea level (about 7,000 feet). This means you get winded quickly and it gets cold. These weren't the tropical temperatures one imagines in Southern Mexico. We were wearing stocking caps and making fires almost every night.
The mercado quickly became one of our favorite places. Unlike many of the other markets where we've shopped, there is less haggling, and we did not feel like we were given gringo prices. Most of the fruit and veggies were sold by the lot. They were nicely displayed in buckets or bins. You paid by the bunch, not the individual item.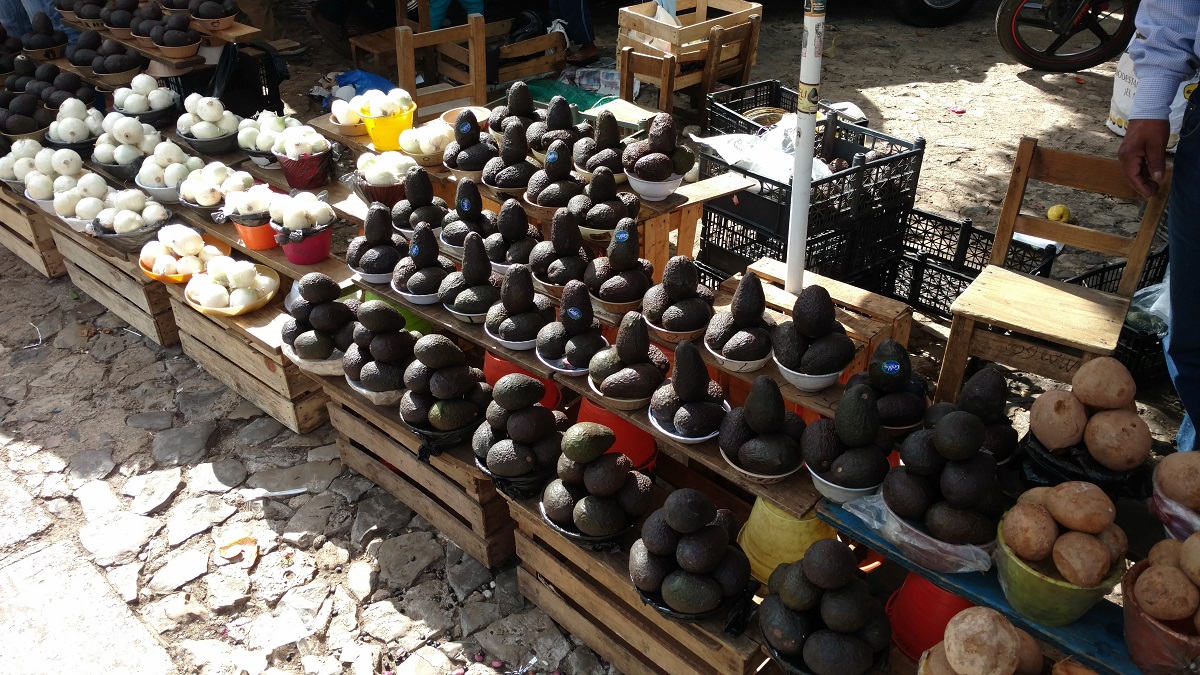 San Cristobal is a place where protests and religious ceremonies commonly occur. Shortly after arriving, there was a big constitutional protest. The streets were packed with locals.
Despite the regular occurrence of sights like these, we never witnessed any violence or serious tension between locals and the police.
Dia de la Virgin de Guadalupe also occurred during our stay. This is a national holiday for many Mexicans. Each year special celebrations, masses and festivities occur. About every five minutes, a different church group, dressed in rags and bare feet, ran through the streets, up the hill and into Iglesia de Guadalupe while pick-up trucks supporting them played loud music. We joined the chaos, ate crappy street food and rode on the carnival rides.
There's a lot of town to explore on foot and adventures to be had everyday in San Cristobal.